any day now: a multisensory exhibition in the heart of london
Immersive audiovisual experience in the heart of London, ANY DAY NOW brings together artists Andres Reisinger and Sam Mason to wrap the facade from the W1 Curates gallery with a hypnotic visual poem. Surreal moving images illustrated in pastel pink hues reflect on life's journey, inviting visitors inside the gallery to dive into a basement 'portal to divinity.' The multisensory exposure explores the fertile space between the digital and physique enriched with audio by RAC, through a series of external digital screens and three internal spatial installations that encapsulate a metaphysical suspension countered by a strong geometric structure. Together, these compositions unfold a space limited in time, "where gravity reigns and living things, such as humans, are extracted."
ANY DAY NOW will be exhibited at W1 Curates in London from 20e October 2022.
all images © Andrés Reisinger
andrÉs reisinger + sam mason question the cycle of life
ANY DAY NOW reflects on the cyclical journey of life and questions the limitless possibilities of the future, imagining alternative and surreal experiences. With their visual poem, digital artist Andres Reisinger and visual artist Together, Sam Mason animates London's bustling Oxford Circus, projecting their art along the gallery's facade and catching the attention of passers-by with their mesmerizing digital screens. Inviting visitors inside, the exhibition continues in a trip to an underground facility presenting three multi-sensory spatial environments that 'creating a portal to divinity'.
In each dreamlike composition, large tables are placed in an arid landscape and adorned with curious everyday objects which serve as metaphors for the endless evolution of life, power, wealth and nature, alluding to 'circumstances and moments that come, dictate, define and simply disappear. Lying in disproportionate isolation, apples and books – some of Reisinger's iconic symbols – signify the physicality of things translated into the virtual world in a quietly eccentric play of proportions and dimensions. These objects are set in motion by Mason's dream space and brought to life in a looping allegorical narrative. New elements, such as arched column arcades, also emerge from the sand as solid symbols of ancient architecture infused with a new world.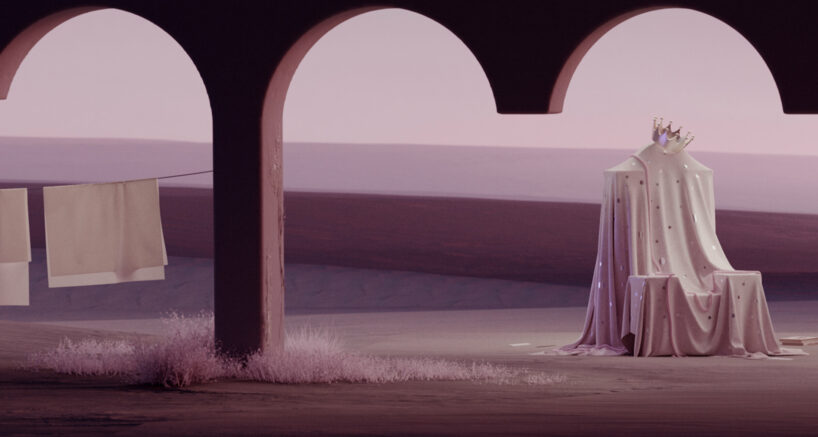 'The overall composition, enriched with a new sound work by musician RAC, is filled with sand, reminding us of the temporality of everything; the work, however, never speaks of an end or a beginning, instead illustrating the infinite cycle of life. The images represented speak of the structure of the world; a forward-facing environment, clearly showcasing the ground below, where souls exist, and the ground above, enlivened by light,' explain the designers.